3 Common Problems in Skilled Nursing Care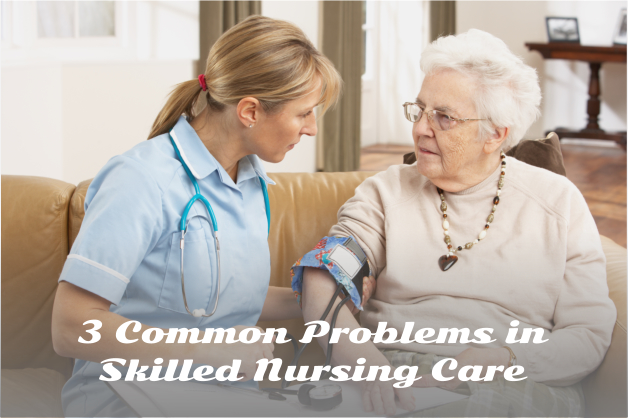 Our health is a serious matter. When it comes to medicine, medical check-ups or even getting a home health care provider, we will only get what is best for us. Thus, it is not surprising that when it comes to skilled nursing care, we only want to have a trusted professional nurse and someone who is knowledgeable in health care.
But what if our trusted healthcare expert disappoints us? We are not talking about simple personal misunderstandings but we are talking about trust issues. We are talking about patient and caregiver relationship. This is very important when it comes to providing quality home health care.Thus, we will discuss on some of the common issues when it comes to skilled nursing care.
The Proper way to conduct patient care
Our common notion of patient care usually pertains to how our hired caregivers or nurses should treat our loved ones. However, this is not entirely the coverage of patient care. It starts with developing a care plan which is a product of the joint efforts of the family and the skilled nurse.
When it comes to the care plan, the law strictly made some prohibitions as enumerated in www.commonwealthfund.com, like:
Feeding tubes should only be used as a last resort
Mood drugs should only be used on specific conditions and not as a part of regular medicine intake
The right method of patient care remains to be a sensitive issue as there are a number of caregivers who are not informed about the standard operating procedures or those who fail to observe them. This is a serious problem as it may bring a bigger concern to the patient's welfare.
The coverage of Medicare and Medicaid
We often have a misconception as to the coverage of Medicare and Medicaid. Although we know that these two basically helps us pay for all our hospital check-ups and home health care assistance but we never know the extent of these benefits. Medicare is a health benefit given to private members. It only covers any expenses involving home care and skilled care nursing. It does not go beyond medication administration.
Medicaid, on the other hand, is a state health plan provided for all its members. But today, there seems to be discrimination as to how nursing homes and healthcare providers treat patients who are Medicaid and Medicare recipients. Medicaid recipients are sometimes treated as second class citizens as to the quality of service that it receives. The Nursing Home Reform law strongly prohibits this action as they strictly require nursing homes "must establish and maintain identical policies and practices regarding transfer, discharge and the provision of services under the State [Medicaid] plan for all individuals regardless of the source of payment."
The Need for state of the art medical facilities
The primary reason why people are adhering to home healthcare is because they want to live longer. Having a personal caregiver is advantageous since someone can look over you and can easily detect if there are any unusual changes in the senior patient. However, in a study conducted regard the state of end-of-life care in America (Fidel and Cassel 1997), it was found out deficiencies in clinical facilities, inadequate professional training and the existing methods of healthcare financing are the primary causes of diminishing quality of end-of-life care.
With this in mind, it is best if the government would allot ample budget to upgrade the facilities not just in hospitals but even in the field of caregiving. The government and its agencies can conduct studies as to how they can improve the different services provided by healthcare providers and of course provide competent training to all health care staff.
Indeed, health is wealth. We must invest in it. By investing, we mean that we should get quality healthcare providers with competent caregivers. If you are looking for one, Boschulte's Pride, your partner in home health care services in Columbus, Ohio, can provide you with one.
For inquiries, please visit www.broschultespride.com or call us at 614-751-6308.